Our Products
Seamware  is a company with a futuristic outlook and with a vision to satisfy the flowing need of Automatic Data Identification (AIDC) with high-end quality products & System solutions.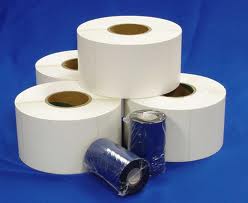 Barcode Label
The Label is a very important component of an AIDC solution. Starting from paper label to application specific labels, we offer the complete range of imported self adhesive labels from world's leading label manufacturers. Whether you are looking for a low cost manufacturing process label or long life asset label or high temperature product label, we have the solution for all your labeling requirements suited to thermal transfer printers as well as its applications.
Specialize Barcode Labels
The specialty labels cover a wide range of applications with many technical challenges to face. Technical requirements may include high heat resistance or low temperature performances, chemical resistance, UV resistance, clarity and many others. The PSA formulation must be optimized for each application and water-borne PSA as well as solvent based products are commonly used.
We have available special labels which can use for specific applications or industries like jewelry label, high adhesive label, high temperature label, fabric, baggage tag etc
Ribbons
We have the right thermal transfer ribbons for your bar code applications.We also have ribbon solutions for special applications. These ribbons constantly produce superior print image quality. For better durable images, our wax/resins ribbons are able to meet your entire ultimate requirement for chemical and heat resistance, and harsh environment applications.You can be rest assured that the consumables offered by us will provide optional performance with extended life of your print heads.